5/2007
Dealing with YAHWEH
This is just a brief description of some of the encounters and the trials, though not
all of them, it should be enough to help you see some of the struggle and to show
that this is no picnic. I'm not looking for sympathy and I am not depressed by the
weight of the cross. I learned from a teacher long ago to be a happy person.
Though I am saddened for the others, the greed, lies, deceit and ingratitude, lack
of wisdom, and no respect for the Lord. They act like the 3 monkeys, they pretend
to see no evil, and to hear no evil and so do not speak about evil,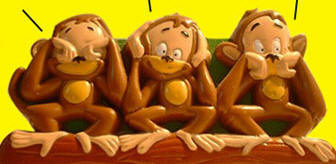 while we are in reality,
surrounded by evil.
This is even from those who know better and claim to be His followers, and
teachers of God, from Quatrain 10.73 "and disloyal the experts in God's law".
Then there is the multitude of others who are oblivious to it all and follow the
latest fad. I've been learning why the prophets cried and why Yeshua cried as
He looked out over Jerusalem, knowing what was coming for the city. There are
great calamities coming upon the earth in the near future as we get farther into
the BOOK OF REVELATION, people will try and explain it away with science until
the evidence is so overwhelming that many will curse God, instead of asking for
His forgiveness and His divine and unfathomable mercy.
3 times I'm told to Deal with it
Back in FOURTH GRADE sometime after the first lesson.
While I was listening to the story about Abraham and how God tested
him by asking him to sacrifice his son Isaac, I was thinking what a harsh
thing to do to a person. That was when I felt Abraham's spirit, nothing was
said, but I got the message, which was to be quiet and deal with it. It only
lasted for a little while, probably less than 30 seconds.
Not long after my RETURN TO MONTANA in1995, after coming
home on Thanksgiving day, it was quiet that night as I sat at my desk
in the dark and cold home I heard "And one of the Kings wants to talk
to you.". I had a few seconds to think about it wondering who it might
be, one of the ones I knew or one of the two unknowns. Then Christ 
spoke, "My greatest hardship was that I couldn't have a family as a 
man.", and after I could feel His spirit for awhile which seemed like 
an eternity even though it was less than a minute. The message was 
very clear WAKE UP and deal with it, just like Abraham's all 
those years ago. I was so blown away by the meeting that I put the 
pen down and didn't pick it up again until Spring.
      The 3rd time was a month later on the 23rd of December I was 
really depressed from the lessons as they had been leaning on me 
very hard all fall. I was stoking the fire and as I went to close the stove 
door I heard, "Leave it open someone wants to talk to you.". After 
turning around and looking up I saw Abraham standing before me. He 
was an outline made up of an aura about four to six inches wide that 
started at the floor on one side and went up and down the other side 
forming the outline of a man. I could feel how proud he was to say, 
"God made a covenant with me that one day, ... , and you are the one." 
and I said, "Because of the way I'm being treated I don't want to talk 
about it, but you are welcome to sit by my fire.". So we sat down and I 
never looked over to see if I could still see him though I could feel his 
spirit for about 20 minutes or so, just like as a little boy, "deal with it".
This is still the only vision I have ever had as we begin the year 2007.
    The storm and the Secrets

 Now I'm nearing the end of my stay in SEATTLE in the fall of 94 and 
my dog had died a few months before and I was alone except for my 
ancestors who were beginning to let me feel their presence. I took 
a backpacking trip up into the mountains, to a lake in Montana, that 
by the outlet is a 500 foot cascading waterfall down to the valley floor 
below. I set up camp and got a large pile of wood for my stay. Then 
a storm moved in and it got nasty out and it was snowing hard with 
the wind howling and the snow blowing horizontal over the cliff and 
down into the valley. The show was so awesome with spectacular sets 
and the Symphony was howling through the trees and with the
 accompaniment of the crackle from the fire in the background. Words 
don't do justice to the scene.

        While the show continued I made some hot chocolate and kicked 
back to take it all in and think about what a crazy life I had, and what 
was going down, and how close 1999 was. When I was young during 
the first lessons I rarely thought about this subject because it was 
taboo. But once I thought about what might be good on a personnel 
level about this if it did come to pass, besides helping others. I 
thought about the knowledge that I would get first, before I tried 
to give it all away. Then feeling a little cocky and afraid, I looked out 
over the cliff into the storm and asked, "I want to know the secrets 
of the Universe, stars, and planets.". The response was, "And the 
weather, and the price will be very high.", well already knowing 
about the assassination attempts, and the final one, I thought well 
no kidding. But I had grown accustomed to that, and worried a little 
about what I didn't know, and what They might be going to do to me.
     Now here is one of the insights the most Holy Trinity has given me
into the DNA molecule, and here is a look at some of the weather;
 2007 prophecy, from Fatima Portugal, July 11,2004. 
Also in Missoula during the summer of 2003 it was surrounded by forest fires 
caused by lighting as Jesus begins to form the Yoke around their necks that He 
had promised during Mass in Orleans, France, 11/11/01, and that I had informed 
the Parish council, 12/23/02.
Also when these fires started I was in traveling in Jerusalem,
Medjugorje and France.

 This is what was revealed about the Holy Spirit;
The Holy Spirit, Shekina, the Divine Feminine in Sacred Scripture .
3 times His sweet voice

I have heard Yahweh's sweet voice 3 times. There have been a few other times

since, but the first 3 times were His beautiful sweet voice. This first time was just before

I returned to Montana and while standing in the creek and contemplating, I heard;

"this is yours". I was stunned and didn't know what to make of it. This doesn't happen,

our Almighty Father doesn't talk to us directly, I knew I was in big trouble and in way

over my head. But I just tried to forget about it and continue on with my old life. The

2nd time was during prayer and I was asking Him; "Who am I?", this wasn't the first

time I'd asked, but it was the only time I got a response. Which like the first time was

short and sweet, "I have." As in I have told you who you are, oh boy the water is getting

deeper and the shore is not in sight. The last time was also in prayer, on the bow of my

boat in Alaska with a mild show of the northern lights overhead, I heard, "you're not

worthy", I was sort of relieved for a few minutes, though I knew I this wasn't going to go

away, the trials were just beginning, that was back in the fall of 96. A few days later I

was spanked big time in a huge storm which you can read about in the ALASKA

chapter. The pruning and molding has been going on for awhile now. I raise up the

2 rods, that were put in my femur (thigh bone), towards Heaven and bow my head and

in my prayer I repeat the promise Yahweh made to David from Scripture; 2nd Samuel

7:14 I will be his father, and he shall be my son. If he commit iniquity, I will chasten him

with the rod of men, and with the stripes of the children of men:

7:15 But my mercy shall not depart away from him, ... .

I have been beaten, even literally with the rod of men. But we need to remember the

wisdom of Solomon from Proverbs;

13:24 He that spares his rod hates his son: but he that loves him disciplines him.

I also always ask for help in learning my lessons and in implementing them. The only

ones who don't need to make changes in their life are those who are dead. After

this in the Spring of 97 Yahweh did take me for A WALK IN THE STARS ,

which was spectacular.

I Warned You

He spoke a couple of years ago in 05 during a dream when He gave me what I was

asking for. Learning how and what to ask for is the out growth of an early lesson where

Yeshua had mentioned early on when He let me hear Him say to our Almighty Father;

"he doesn't know what he is asking for". At the time I repeated my main points which

are always repeated even today;

In the name of Yeshua the Christ, forgive me and help me.

Stop the bluffing and the lies and help to only know and spread the truth.

Help me to know and do Your will.

Please let the maximum numbers of souls be redeemed, with the minimum amount

of bloodshed and please let there be over 9 centuries of peace.

While I still ask for these basic desires I also ask for many other things, for all of

you, for my family and friends and for things that I have learned from the writings of

the Saints and also from the Bible. From Revelation;

2:17 He that hath an ear, let him hear what the Spirit says unto the churches; To him that

overcomes will I give to eat of the hidden manna, and will give him a white stone, and in

the stone a new name written, which no man knows saving he that receives it.

2:26 And he that overcomes, and keeps my works unto the end, to him will

I give power over the nations:

2:27 And he shall rule them with a rod of iron; as the vessels of a potter shall they be

broken to shivers: even as I received of my Father.

I had been asking for an ancient blessing given to the Patriarchs for awhile when

finally Yahweh came and stood before me but He obscured His face, unlike the

previous time several years earlier where He looked me in the eye, face to face,

[ FACE of GOD & the DECLARATION & PROCLAMATION ]. Then as He

gave me the blessing, I could feel a strong force entering my head as He said;

"I warned you", and then He walked away. I am still asking to know and

understand and use the blessing wisely. The proverbial, "rock and the hard place",

there is no easy answer, or comfortable solution. The more I seek the more I find

and it is not a pretty picture. The story from SIXTH GRADE and the reservoir of

blood is becoming a reality that is not going to go away, unfortunately. For 2/3 of

the people are going to die as the prophecy from Zechariah is fulfilled;

13:8 And it shall come to pass, that in all the land, says the LORD, two parts therein shall

be cut off and die; but the third shall be left therein.

13:9 And I will bring the third part through the fire, and will refine them as silver is refined,

and will try them as gold is tried: they shall call on my name, and I will hear them: I will

say, It is my people: and they shall say, The LORD is my God.

There is only one thing to do, Deal with it. Peace be with you.