5/3/07
Wrestling with the Angels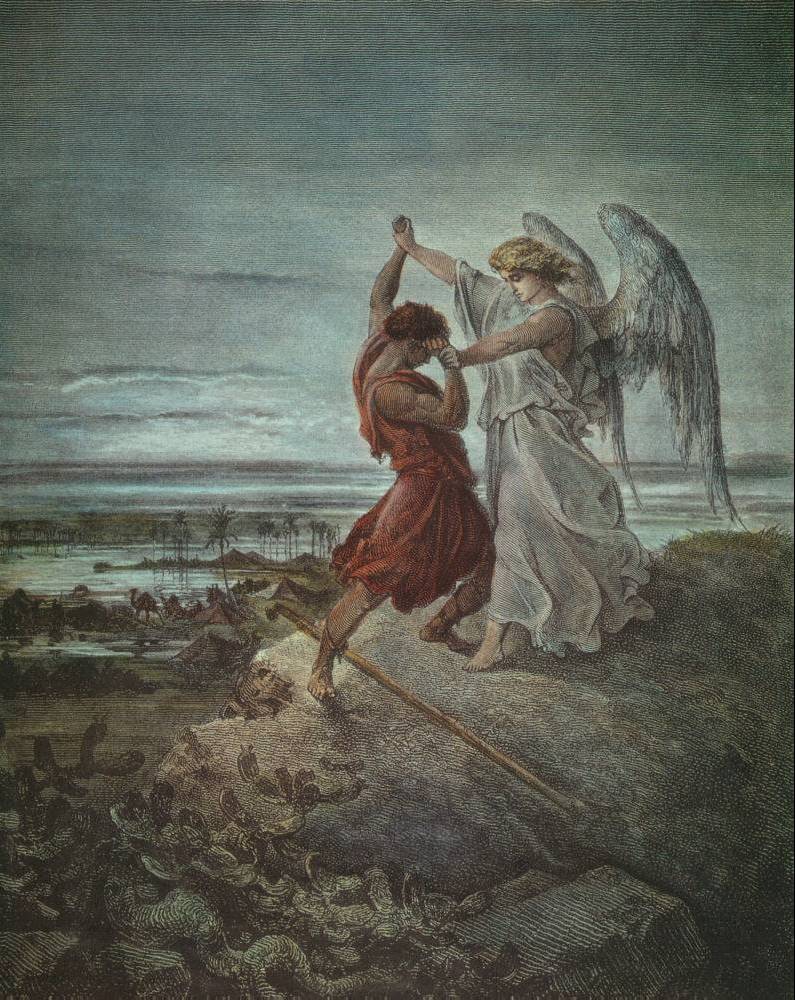 So it was long ago (1960's) when the struggle began when I had to answer
the first question about how old I would be at the millennium in  FOURTH GRADE .
Things didn't get any better a couple of years later when the story about  the reservoir 
of blood was dumped on me in SIXTH GRADE  . The early years ended with the test
question; "How will you build you're empire?" in SEVENTH GRADE . There were a
few sporadic events after that but basically things were relatively quiet as I was trying
to forget a few very uncomfortable minutes of my childhood. Though that came to an
abrupt end when my childhood teacher/tormenter came back in 1995 while in
SEATTLE and said hello, I told you at UM Duluth that you couldn't walk away from this.
Thus began graduate school and it has been one long roller coaster ride since then.
From reviewing my childhood to learning many new things and reading the Bible 7 times,
and many trials so far. If you are interested, that period is laid out in this section which is
called The Education.
	Now I have come to appreciate and understand Jeremiah a little as he 
reveals in the 20th chapter and in this verse especially;
	20:7 O LORD, thou hast deceived me, and I was deceived: thou art stronger than I, 
	and hast prevailed: I am in derision daily, every one mocks me.
I remember being asked in 95 what I thought about bluffing, to which I said; "Not much,
though I suppose it has it's uses." I still don't think much of it, but I deal with it. How I deal
with it these days is to focus on what matters, prayer, the Holy Eucharist, reading the 
Bible and my relationship with the most Holy Trinity. Leaving prophecy for later, for I 
have prophesied enough and knowing prophecy doesn't get you into Heaven. I am 
tired of the lies, bluffing or trials or whatever you wish to call it. This is not unheard of 
in Scripture, it can be found in both the New and Old Testament. I deal with 1 day at
a time and what does happen and not what may happen. An example would be that I
was told that no hurricanes would hit the US last year, 2006, and coming after the
record year of 2005 everyone was forecasting another big year. But I waited because
it is meaning less for me since I have the 2007 Fatima prophecy that I wrote down in
2004 while in Fatima, Portugal. Will it come to pass, God's will is what is going to 
unfold in 2007. That is what we are all going to deal with.
	I have also been dealing with the hard cold facts about what is going on in 
our Country and around the world, and that is more than most people want to deal 
with, like the scandal of abortion, globalization, genetically engineered foods, the
loss of our freedoms, government corruption, the apostasy in the Church and my bills.
I keep praying and being an advocate for us before the Holy Trinity and trying to
help a few souls here. Perseverance, is the virtue needed in this fight, we may be 
knocked down, but we have to keep getting up and dusting ourselves off and 
continuing on. While discussing the matter I frequently point out that more would get
done if God would stop squashing me into the ground, but I'll deal with what ever 
gets thrown my way and praise my Creator for life and a chance to sing in His choir 
someday because of what Yeshua the Christ did for us. I also point out that of course
the world engulfed in sin, when satan is allowed great powers over us and the good
are held back and the scum is allowed to float, then the world will look like scum.
But it is the Creator's right to try us as He wishes. These points have been brought up 
before in the Old Testament. The answer remains the same, repent and prayer and
seek God. That will always be the answer.
                  Dealing with satan's angels
This is what the Apostle Paul wrote in 2nd Corinthians;
12:7 And lest I should be exalted above measure through the abundance of the 
revelations, there was given to me a thorn in the flesh, the messenger of 
Satan to buffet me, lest I should be exalted above measure.
12:8 For this thing I besought the Lord thrice, that it might depart from me.
12:9 And he said unto me, My grace is sufficient for thee: for my strength is made perfect in weakness.
Most gladly therefore will I rather glory in my infirmities, that the power of Christ may rest upon me.
12:10 Therefore I take pleasure in infirmities, in reproaches, in necessities, in persecutions,
in distresses for Christ's sake: for when I am weak, then am I strong.
I have had a few overt encounters with the demons, which while a little unnerving, it is the
subtle attacks which you have to look out for. Once I was surrounded by demons mocking
me and I just pleaded the Blood of Jesus Christ which then covered me and they were gone.
Another time while near the House of Prayer in Ireland a demon came near but I told him he
had no power over me as I am a child of the light. A couple of times I have had them walk
up to to me while I'm sleeping and I can hear their footsteps and them talking as they
approach and feel them looking down at me. Another time I was going over the Pyrenees
into Spain and while on this very narrow road carved out of the mountain side, I was told
that if I knew what they were going to do to me I would drive off the cliff. I told them to go to
hell, and their response was that we are taking you with us, then I reminded them that they
are liars and I know where I'm going, to sing in my Master's choir; Holy, Holy, Holy, Lord
God Almighty, all power and glory is yours now and forever. They offer anything I want, and
they will bring it by, you don't even have to go looking for it, you do have to resist and walk
away. It may not always be a sin but something to distract you from what you should be
doing, like praying. Not to long ago they showed up and their leader came right up to me
face to face, as I was shown them holding me back and trying to knock me of the path. But I
just keep looking at he cross and moving towards it, slow but sure I am making my way there.
Peace be with you.